Devils vs Heels
The Only Head-to-Head Escape Room!
Devils-vs-Heels is now reopened with new safety measures.  It's currently running weekends only and via special request!
The first Head-to-Head escape room where you're actually in the same room as your opponents!
Take on your rivals, and see if you can make the final shot before time runs out – or before your opponent scores!
You'll be split into two teams – the Devils and the Heels.  You'll go into your respective locker rooms.  There you'll find a collection of clues and puzzles that will help you make it onto the court.  Once on the court, you'll meet your competition.  Each of you will have to solve your own puzzles.  Then find the code to unlock the basketball in middle of our 32′ basketball court with regulation goals, and score a bucket in your opponent's basket before time runs out.  Get there first, and it will be time for your "One Shining Moment!"
Devils vs Heels is like nothing you've done before!  Nowhere else will you find an escape room that allows you to truly compete against another team and do it while paying homage to the greatest rivalry in all of sports.  This is a great game for beginners, basketball fans, and anyone who wants to try a different kind of escape experience.
Man-to-man D and mid-range jumpers come in handy!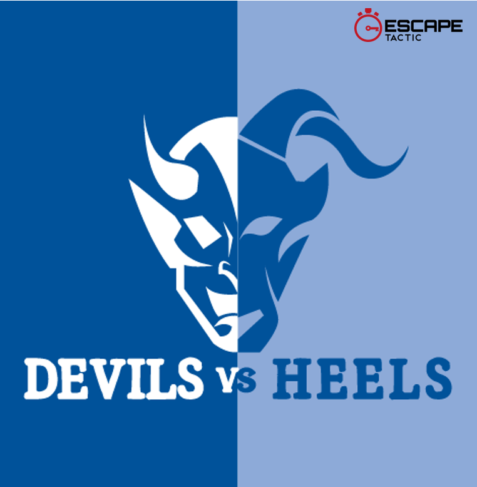 This place was so dope!! In a great neighborhood too. There were only two of us and we did the Amazon Survival room. We definitely didn't get out in time, esp since we're new to this whole escape room thing and are objectively pretty bad at it but we appreciated the ambiance and thought everything was really well put together. It wasn't super linear which made things a little trickier but that's not a bad thing at all- just created more of a challenge. But the thing that elevates this place and puts it a notch above was the customer service. The employees at Escape Tactic were exceptional- from the moment we walked in they were talking to us, helping us with the intro puzzles in the waiting room, giving us more information about the place, etc. Honestly you could tell that they were excited about the place which made the experience so much better. They even gave us a sneak peek into their new room (an airplane themed one) which looks absolutely amazing and we will definitely be back to try. Shoutout in particular to Tyler who assisted us at the end- seriously a gem of a human All in all, we're so glad we gave this place a shot and it'll definitely be the first place we go to next time we're craving an escape room!!

Kimberly Sarro


8/09/2018

We just finished a company team building event with around 60 people with tremendous success. The feedback from the team was awesome, everyone had fun. The rooms are amazingly designed, the stories are great and the puzzles are so much fun. Combine that with an amazing staff and no wonder the team enjoyed it so much. Second time for me, went with a small group (6) the first time and had a blast too. So, if you want a great time, in a great location, you have to give these folks a try. You will not regret it!

Sam Shanks


10/30/2018

Had the best time last night at Escape Tactic! We did the King Tut room and it was awesome. I want to give a big shout out to Alex our game master. He made the experience awesome. I am hoping to get some people together to the "Heels vs Devils" room soon 🙂

Jessica Walsh


1/17/2019

SO much fun! We did the King Tut's Curse room for my birthday and it was awesome! The guide was super helpful and friendly and everything looked really nice and even clean. We all had a really fun time figuring it out as a group and it really makes you appreciate the different ideas and knowledge everyone brings to the table. I will definitely be back!

Lindsey Pennington


7/17/2018

Had an amazing time and was astounded by the secret rooms and complex puzzles that was in king tuts curse. Our game master, Jackson, was great and super helpful. This is definitely worth it and more affordable than other escape rooms. I can't wait to come back and try another one.

Tara Trotter


9/02/2018

The most fun I've had was here! We came with my parents and we all just had so much fun. We did King tuc. If you haven't done an escape room you must try one! It'll be the most fun you've ever had. We will be back to try another room soon.

Marissa McMasters


11/06/2018

My family and I have done several escape rooms and this one by far was the most fun. We did the King Tut room and it was a blast. We liked that there were several rooms involved. We have been to ones where you are in one room the whole time, this one was segmented into 4 different rooms. The staff was great, if everyone in the room is in agreement to get a hint then the staff will help if you get stuck. We will be back.

Dori Roberts


1/05/2020

This was my first time trying an escape room and I had a great time. The room was difficult and we weren't able to escape, but now that we know how it "works" I am excited to go back and try another room. Alex was such an awesome game master - have us great clues to help us along and made the experience so much fun!

Dawn Holland


5/05/2019

First time to an escape room and I have to say that it was an absolute awesome experience. The facility is clean and has an great atmosphere. My team successfully completed the mine trap room, I love the back story that came along with the room, I felt like a little kid again on a real live treasure hunt!!!! Tyler at the front desk was a lot of fun he even took time out of his day after to show us around the facility he was a true pleasure. We left planning to go back, if only we could agree on which room to try next!!!

Cheyenne Williams


7/12/2018

First escape room experience and it was awesome!! The staff was welcoming and friendly. King tut's room was challenging but we were able to complete it in the last 10 minutes with a little hint from the 'room operator' who will help over intercom if needed. There were multiple rooms in the one challenge and each puzzle was different and exciting. Everything worked as intended. We will definitely go back with our kids and family. Also, as previously mentioned, right across the street from breweries which is great if u are of age. Thank you for the fun day.

D Drummer


10/21/2018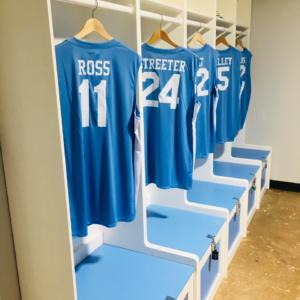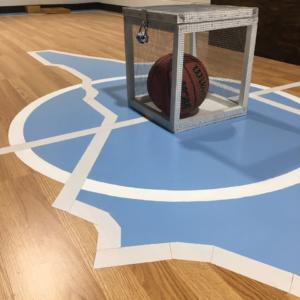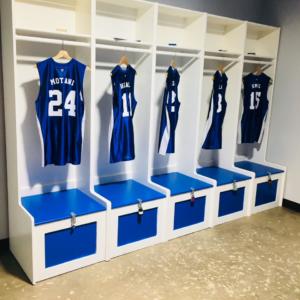 PLAY THIS ROOM IF…
You're a fan of basketball & awesome games!
You love true competition
You want a room with more traditional puzzles
OUR TIPS
Don't wear high heels.
Plays great even with only 4 people
Work on your jumper!
THE BEST PART
It's truly Head-to-Head.  You'll be on the basketball court playing against your rivals!
Difficulty Rating:
4.0 out of 5.0
Best Time:
30:10 (0 hints)
Price:
$26 (plus tax) per person