SEAL Team
Our Military-Themed Adventure!
You and your unit are part of America's elite SEAL team. You've been assigned a classified top-secret mission to eliminate a high-value terrorist target thought to be hiding in the streets of Kabul. After being dropped into the city by helicopter, you must locate the target's hideout, navigate through extensive security measures and booby traps to enter the building, and ultimately eliminate the terrorist threat before he escapes your grasp.
Whether you've played escape rooms before or not, you'll love the suspense of our SEAL Team room. There are more puzzles in this game than any other escape room we have, and each solved puzzle will take you one step closer to the final reveal.  This is probably our hardest room, but it comes with an exciting ending and an incredible mix of puzzles not to be missed!
WARNING: This game uses a mature theme and includes toy guns.  It may not be suitable for younger guests, those who suffer from combat-related PTSD or those uncomfortable with a realistic military theme.  Please use caution when determining if SEAL Team is right for you.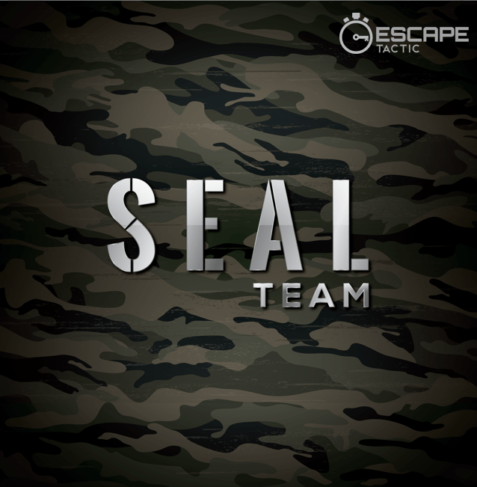 Great time! With a great staff. They explained everything real well so we could get into our respected rooms soon after we arrived. Hints are allowed if a room all agrees to ask for one. Great for all ages, we had a large adult party and had a blast! Plenty of breweries nearby to enjoy a beverage after with your fellow escape artists.

Ben Hardy


May 24, 2019

First escape room experience and it was awesome!! The staff was welcoming and friendly. King tut's room was challenging but we were able to complete it in the last 10 minutes with a little hint from the 'room operator' who will help over intercom if needed. There were multiple rooms in the one challenge and each puzzle was different and exciting. Everything worked as intended. We will definitely go back with our kids and family. Also, as previously mentioned, right across the street from breweries which is great if u are of age. Thank you for the fun day.

D Drummer


October 21, 2018

We had a great time there! We were in Amazon Survival. Loved that it was multiple rooms and had a variety of different puzzles that challenged us, but weren't too crazy that it was impossible. I was with a group of 6. Some had been to an escape room, and some not. It was just right! Definitely worthwhile. I want to go back and try some of the other rooms!

Kathryn C


January 28, 2020

We love escape rooms and were in town visiting my cousins. We decided to go out and try some around the area. We had a blast with the escape rooms, yes we did two! We started with SEAL and enjoyed it so much we came back to do the MINER room the next day. The facility is amazing. We all plan to continue to go back to complete the rest of the rooms.

Alyson Macdonald


May 14, 2019

Had an amazing time and was astounded by the secret rooms and complex puzzles that was in king tuts curse. Our game master, Jackson, was great and super helpful. This is definitely worth it and more affordable than other escape rooms. I can't wait to come back and try another one.

Tara Trotter


September 2, 2018
PLAY THIS ROOM IF…
You want a challenge.  SEAL Team is our hardest game.
You want a non-linear game.  This is definitely not linear!
OUR TIPS
Don't wear high heels. You're in Kabul, Afghanistan!
Think creatively. It's not as straightforward as it seems
THE BEST PART
The combination of physical, observational, and interactive puzzles will surely thrill!
Difficulty Rating:
4.6 out of 5.0
Best Time:
54:34 (0 hints)
Price:
$26 (plus tax) per person
Number of Players:
2 to 10