Escape Tactic Puzzle Scholarship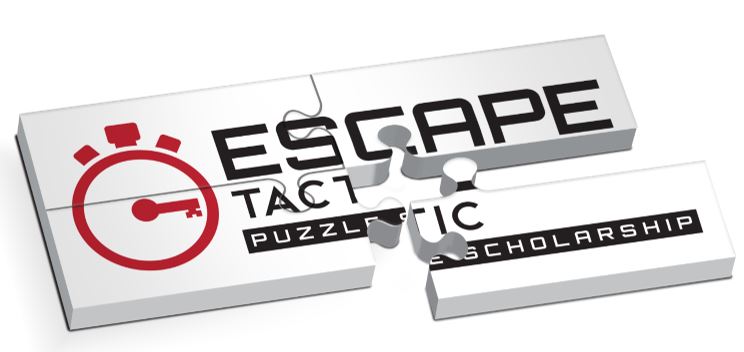 The 1st Annual Escape Tactic Puzzle Scholarship is now closed for applications.  We had an overwhelming group of fantastic group of submissions this year.  We were blown away by both the quantity and quality.  Below are our 4 Semi-Finalists for the $1,000 scholarship award.  The final selection will be made on February 1st, 2018.   Thank you to everyone who submitted their applications.
2017 Semi-Finalists
Semi-Finalist #1
Name: Mia Couch
School: College of the Redwoods.  Hoping to attend UC Davis
Area of Study: Computer Science
Submission: created an incredible "bomb" for use in an escape room.  Watch here video here:
Semi-Finalist #2
Name: James Eister
School: Clemson
Area of Study: Engineering
Submission:created plans for a Plinko-like game that ties into electromagnets to open a lock and reveal a secret compartment.  We're not showing the plans here as there might be a chance you see this in one of our rooms!
Semi-Finalist #3
Name: Tasha Determan
School: University of South Dakota
Area of Study: Fine Arts with a focus in Sculpture
Submission:Emojiku – an exciting take on Sudoku
Semi-Finalist #4
Name: Elizabeth Hsieh
School: University of California – Berkeley
Area of Study: STEM
Submission: created a 3-dimesional puzzle cube.  We'll use it as a lobby puzzle at Escape Tactic.  This was the only physical puzzle we received, and it was much harder than it looks!
About Escape Tactic
Escape Tactic is the creator of 6 highly immersive escape rooms in Charlotte, North Carolina.  Their founders love puzzles, creativity, and thrilling people with brain games that excite.  They enjoy using the escape-the-room games to help people escape-the-norm.  This is the first year for the Escape Tactic Puzzle Scholarship but certainly not the last!