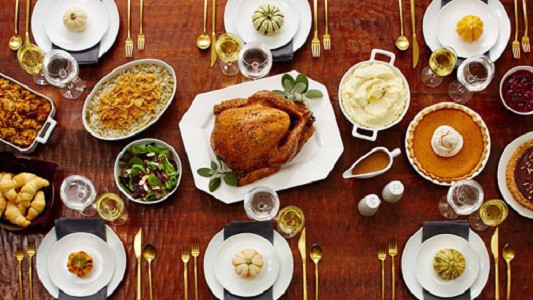 Happy Thanksgiving!
Happy Thanksgiving Charlotte and beyond!   This is our favorite time of year.  The leaves are falling, the temperatures have cooled, football is in full swing (come on Panthers; let's get it going!), and families get together.  And of course there's great food to eat!  (To be clear, our meal is great but doesn't look anything like the Betty Crocker image we borrowed for the image in this post!  Maybe we'll add a post-dinner pic later.)
We have so much to be thankful for this year.  We've been very lucky.  Great friends, great family, great things in our city, and so much more.  But as we look back on 2016 and all we have to celebrate this Thanksgiving, we're looking forward to 2017.  We're so excited to bring Escape Tactic and all of our escape rooms to Charlotte.  We're still narrowing down our location options, but we've been able to use this unfortunate delay for good.  We just finished the game play for our 6th game, have built some incredible props, and found new ways to really enhance the game experience.  We're eager to start next year and thankful for all we've been given this year.
We hope this Thanksgiving you're finding things to be thankful for too.  Let people know, tell them you appreciate them, enjoy time together, savor good food, and when all else fails and the stress of guests get to you…..start drinking early!  Our house is certainly stocked!  We've got both sets of parents here.  We may need it.
I hear people stirring.  They slept in after a long day of travel to get here.   So I guess….here….we….go!