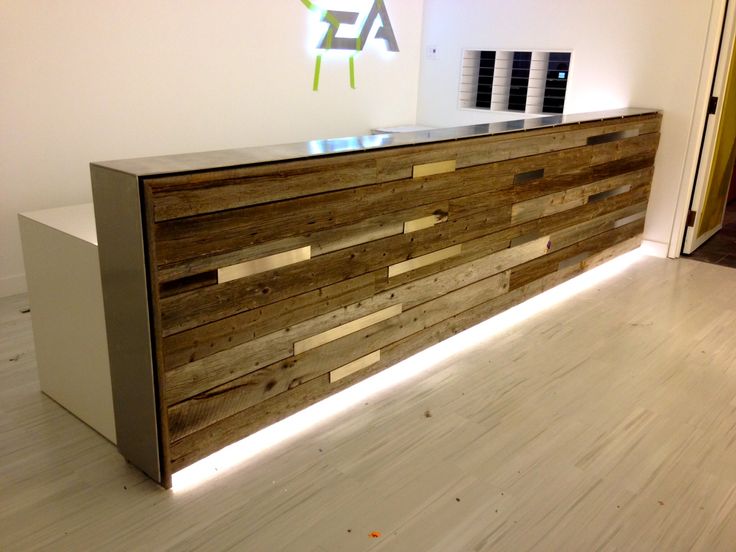 Front Desk @ Escape Tactic
One of the fun parts of starting Escape Tactic has been getting to build all kinds of new things.  Props, boxes, barrels, doors, etc.  I've spent countless hours in my workshop building things I'd never expect to build, and I've turn antique mall relics into re-imagined fun toys.
New for me was the idea of building a front desk.  We wanted something that would look like reclaimed wood, but upon finding them on Etsy or Houzz, they were thousands of dollars.  They're beautiful, but that's more than we wanted to spend.  So I set out to build my own.  (The image include here was some of the inspiration).
I found a template online and used that as a guide.  I can't find the layout I used, but it's going to look similar in style to this.  We wanted something employees could sit to work but tall enough to comfortably welcome people when they check in.
It'll be 48" tall at the front and 28" high at the lower level.  It will be a commanding 7' wide and 26" deep.  The basic construction is simple.  It's just 2x4s for the frame and ½" plywood as the backing.  We're still determining if we want to go with the reclaimed wood look or accent the flooring by using corrugated metal.  We'll make that call once we're in the space and can see what the floors look like.
If we go the wood route, the top will likely be sheet metal to tie it in with the rest of the theme.  We'll have iPads and stands on top for guests to check-in, and we'll run power through the interior of it.
In all, it's a pretty basic front desk.  We're putting our money into our games, but I thought it would be fun to show the work in progress as we build it out.  The image attached here is the framework of the desk.  Took me about 3 hours to build.
We want to create a welcoming environment at Escape Tactic.  This will be just a small part of that when you come through our doors.