Flight 282
Looks like a Real Plane!
Not long after you board a short evening flight from Charlotte to Washington, DC, things begin to go awry. Soon you learn that the plane has been hijacked by the pilot, and you need to reach the cockpit before the bomb he activated goes off! But you're back in the Main Cabin and must avoid the traps he's set to protect his plan by solving various clues, riddles, and puzzles.  You'll have to navigate your way through the plane, gain crucial access codes and take back control before it is too late!
Flight 282 blends obvious clues with very subtle ones and balances riddles with logic problems.  It's perhaps our most balanced game with something for everyone.  And while other escape rooms around the country have tried to use an airplane theme for their rooms, no one has built a room quite like this with real airplane seats, beverage carts, overhead bins, and replica parts from a Boeing 737 cockpit.
This is as real as it gets – particularly if you don't defuse the bomb in time!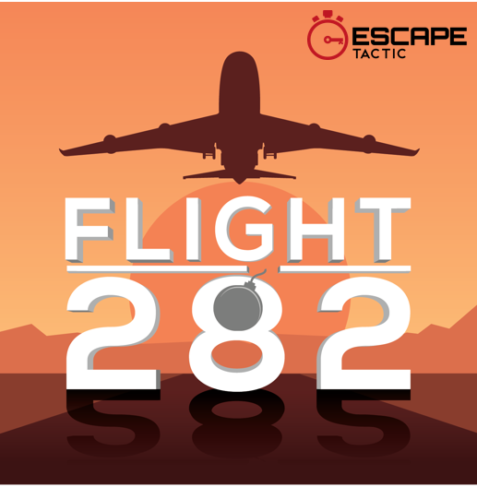 We had a great time at escape tactic! The staff was super friendly and helpful. My group did Flight 282 which was a lot of fun and really made you think. Although we did not escape in time, we still had a blast and will most definitely be returning.

Jerome Fischetti


12/10/2018

We took our niece and nephews for their first taste of an escape room experience, ages 9 to 16. What hilarious fun! We played the King Tut room, considered the easiest one, and had so much fun watching the kids work through each clue. Thanks to the patient staff at Escape Tactic for stepping in when needed to keep the kiddies from getting too discouraged. After this I'm sure hubby and I maintain the title of most fun aunt and uncle!

Viyae Nugent


12/26/2019

This was my first time trying an escape room and I had a great time. The room was difficult and we weren't able to escape, but now that we know how it "works" I am excited to go back and try another room. Alex was such an awesome game master - have us great clues to help us along and made the experience so much fun!

Dawn Holland


5/05/2019

We did the Amazon Survival room and found it to be very challenging, fun and complex. It was very well designed and kept you engaged. We have done many escape rooms and this one was superior. Very nice and supportive staff. Highly recommend!

Shila Fisher


10/29/2018

We tried the King Tut's Curse room and had an awesome time. The staff was helpful and concise. The atmosphere was relaxed and fun. It ended up just being our party of 3, so our staff member (Calvin) did an excellent job getting us through the room while still letting us struggle. We thought the multi-room aspect was very intriguing especially since not every escape room we've been to had that. We will definitely be going back to Escape Tactic for another great experience!

Caroline David


7/08/2019

Went for a retreat with my non profit at the end of June and thoroughly enjoyed it. The gentleman who lead us through the activity was amazing! Very detailed yet brief at the same time with an energetic spirit. Also as we were leaving the young woman who was also working mentioned that she liked and appreciated my "teach for ✊🏽the culture" T-shirt. That meant a great deal to me! Thank you for acknowledging the work that is critical in uplifting boys of color.

Keenen Maull


7/15/2018

We did the escape room that was Egyptian themed. It was so much fun. We went as a group from work and with minimal clothes were able to figure it out. It was also really neat to see how interactive they made the room. They use a lot of Technology!

MR MR


9/06/2018

We love escape rooms and were in town visiting my cousins. We decided to go out and try some around the area. We had a blast with the escape rooms, yes we did two! We started with SEAL and enjoyed it so much we came back to do the MINER room the next day. The facility is amazing. We all plan to continue to go back to complete the rest of the rooms.

Alyson Macdonald


5/14/2019

Went here last year when my parents came to visit, and we still talk about it to this day. They do an amazing job here. The puzzles are challenging and exciting. This was our first escape room, but we figured out some tactics for our next visit. The staff were super friendly and helpful, and we will be back!

Dustin D


5/31/2020

Brought an old friend for a new experience! We were going to go bowling, but this turned out to be way better. Our Queen Bree helped us through the Mines. I will definitely be coming back, great atmosphere and staff! Worth every penny. Thanks guys!

Michie


5/31/2019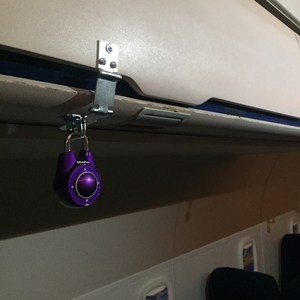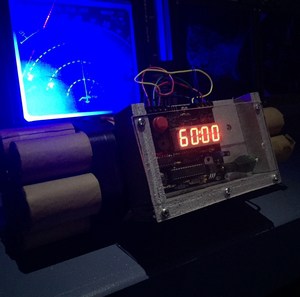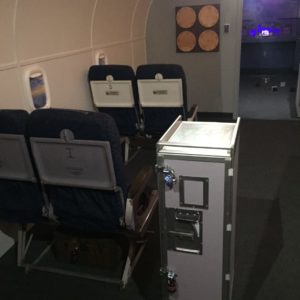 PLAY THIS ROOM IF…
You want a diverse mix of puzzle types
Using real plane parts as part of the game sounds like fun
You're ready for a fun, challenging game
OUR TIPS
Come ready for lots of puzzles in this game
Try Flight 282 if you're looking for something dual-path puzzles for larger groups
THE BEST PART
We used parts of real airplanes in this game!  And the interaction with multiple senses is fun.
Difficulty Rating:
4.4 out of 5.0
Best Time:
49:24 (0 hints)
Price:
$26 (plus tax) per person
Number of Players:
2 to 10