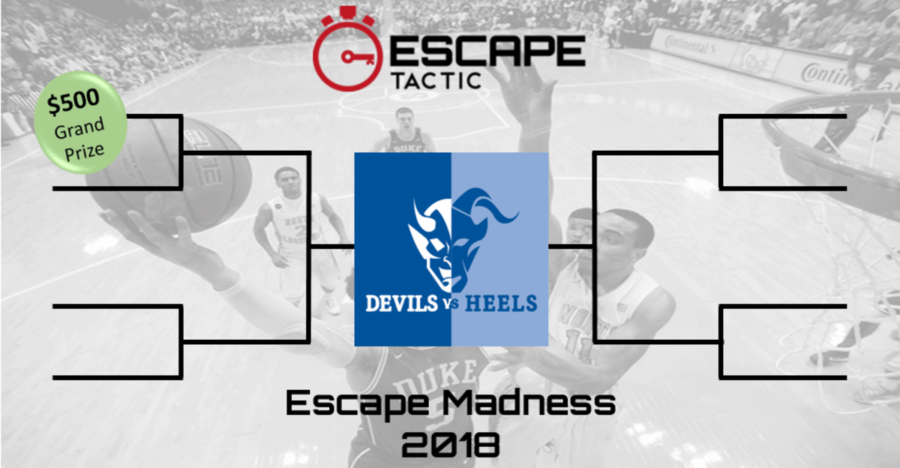 Win $500 in Escape Tactic's "Devils vs Heels" escape room!
Devils vs Heels: a truly Head-to-Head escape room
"Devils vs Heels" is a first-of-its-kind truly head-to-head escape room, all center around one of the greatest rivalries in college basketball.  This isn't like the head-to-head escape rooms you've heard of before.  You're not competing against others for time.
You're actually competing against the other team in the exact same game!  You're playing your game in the same room that your opponents are playing theirs!
You start in your locker room – either Devils or Heels – while your opponent is in the other.  You must then make your way onto our Devils vs Heels basketball court, complete with a scorer's table, hardwood, and full-sized basketball goals!  Finish your puzzles before your opponent and score a basket to hear "One Shining Moment" in honor of your victory!
How You Win $500 during Escape Madness
Winning your share of $500 is easier than you think.
Find your teammates (5 players total)
Sign up to play Devils vs Heels between Feb 1st and Apr 11th, 2018
Earn one of the top 4 times to make it to our version of the Final Four
The Final Four teams will be the 1st 4 to play Flight 282 that we'll open in April.  Be the fastest team to beat Flight 282, and your team will win $500 cash!
It's really that easy!
Schedule Your Game
This stands to be one of our most popular games so book your game today!  All available times are list on the site.  Get in now before the games fill up, and bring your A-game to the court for your shot at $500!
Bring your competition with you too!  Nothing against stacking the schedule in your favor – the Devils and the Heels do it every November. You might as well too!
The Official Rules
In order to qualify for the $500 grand prize, there are a few key rules you must follow:
You may only play the room once.  If any player on your team plays a 2nd time, you will be disqualified.  And yes, we'll know!
The Final Four will be based on the top four winning times.  Yes, you must win your game to quality!  In the event of a tie, the fewest clues used will be the tie breaker.
If you break anything, you're immediately disqualified, and may be held liable for the damage
No cheating!
You and your entire team must be able to play Flight 282 within one week of our notice to you.  The schedule for Flight will be posted here when it's ready to open.
All decisions are final and are at the sole discretion of Escape Tactic, its owners and employees.
We may change the rules at any time for any reason.