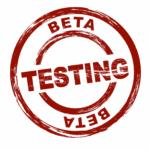 Play Escape Tactic….for FREE!
---
We're not open yet, but we will be soon!  And this is your chance to play one of our games for free and get other great benefits.  Here's how.
Fill out the form below and get:
Entered for a chance to be an exclusive beta tester!
Access to book rooms before we open them to the general public
Insider news about our location, design, and games before anyone else
How to Get Picked
---
If you really want to be a beta tester, then prove it!  Grab your friends, co-workers, family members, or just random dudes on the street.  Give them the Referral ID you'll get in your confirmation email.  When other Beta Testers sign up with your code, your chances of being chosen go up….WAY UP!
So if you want to be first, let's see what you've got.  Share this page and your Referral ID with your friends so they can be beta testers too!