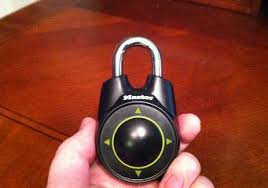 Our 5 Favorite Locks
I know this seems like a boring topics – and it may be.  Let's just see where this ends up!  But I thought I'd right about our some of our favorite locks and the ones we've used at Escape Tactic.  I chose 5 because, well, it just seemed like a good number!
Electromagnetic locks or Mag Locks – these are exactly what they sounds   They're locks powered by low voltage electricity.  You may know them most from commercial doors, but you can do so much more with them.  All of our games use at least one mag lock, and it allows us to put a little bit of "magic" into the game.  Push here, pull them, set this there, and something opens or unlocks.  It brings an element of surprise to the game, and they're particularly fun when paired with pneumatic lifts!  (Come play Mine Trap, and you'll see what I mean).
Directional locks – again, exactly like they sound. Instead of numbers, letters, or a key these locks are opened with a directional combination.  You can find them at any hardware store, and they allow for some really fun clues in the game.   The first time I played a game with them and we were stuck I tried:  Up, Up, Down, Down, Left, Right, Left, Right.   I was just missing the "B" "A" to complete the code.  (If you're 30+ and a male, you'll get the reference!)
Antique locks – it's your basic padlock and key, but it's cool to see how they worked hundreds of years ago before they had the internal tumblers we have today. There's nothing special about them other than their look and they're "on theme" for some of our escape rooms.  You'll find them in King Tut's Curse and Amazon Survival
Combo boxes – these were made famous by the Chinese centuries ago, and they come in all shapes and sizes. Master carpenters build boxes that have hidden compartments or codes within the box you must enter in order to unlock them.  They're as low-tech as they come, but if you enjoy engineering and wood-working like I do you can truly appreciate the craftsmanship that goes into these boxes.  We've got them in a couple of our games, but I'm not telling you where!
Smart tokens – we haven't incorporated these into a game yet, but as we grow, learn, and take advantage of new technology, we're really intrigued to Smart Tokens. Check them out here.
As we expand, we're going to continue to look for new ways to lock and unlock things.  The traditional alpha-numeric combo locks still make for great game play, but we're continuing to up our lock game so you can enjoy your escape room game more!